Canine's labor helps find burial grounds of Monroe pioneers
November 20, 1999
BY LARRY P. VELLEQUETTE
BLADE STAFF WRITER
MONROE - A team of archaeologists, forensics experts, and historians has spent hundreds of hours over the last several weeks using expensive, complicated equipment in an attempt to locate the remains of Monroe's first settlers that were buried nearly 200 years ago.
Yesterday, it was Eagle's turn to smell and dig.
In a few short hours, one of the world's most specialized dogs indicated to his handler that there were at least 35 more gravesites at the site of the long-lost St. Antoine's Cemetery than the "experts" had been able to find with their bulldozers and high-tech detection equipment.
"He's just going crazy out here," said Sandra Anderson, Eagle's owner and trainer, as the 7-year-old Doberman-Pointer mix roamed across the already disturbed soil of what was to have been Monroe resident Dan Rice's first attempt at building a housing development.
For about 25 onlookers, Eagle's antics were an amazing display of canine detection ability and human interaction.
As Mrs. Anderson directed him to each area of the search, Eagle walked quickly around, his magnificent nose about nine inches off the ground, sniffing for traces of human skeletal remains buried as much as six feet below the clay-laced soil.
When he "hit" on the scent, he would stop, drop, and bark for his owner's attention, calling her to the site. Mrs. Anderson then asked Eagle questions, making sure he confirmed the spot he had indicated by asking him to point to the scent.
Once confirmed, Eagle got his reward for all his efforts: he got to run off with Mrs. Anderson's hat, which he promptly returned to his handler after he displayed his prize to the gathered crowd.
"To him, it's a game. To everyone else, it's very serious," Mrs. Anderson said.
In total, the dog was able to not only confirm the 45 sites that other researchers had found, but he found between 35 and 45 more sites, she said.
The dog helped them retrieve more than 20 pieces of skeletal remains ranging from the size of a thumbnail to a long bone.
St. Antoine was Michigan's second church. French settlers founded it along the River Raisin's northern bank in 1788.
The parish is the predecessor of St. Mary's Church in downtown Monroe. More than 500 people are believed to have been buried in the cemetery that historians believe was located next to the former church, which burned in the early 1800s. Records indicated that all the graves were moved to a different cemetery in the 1830s.
In September, a consulting firm hired by Mr. Rice located 45 graves on the first two of Mr. Rice's home sites. The additional sites found by Eagle were on a third building location.
Eagle and Mrs. Anderson donated their efforts yesterday to help determine just how many bodies remain in the 18th century cemetery.
The land was sold earlier this year to Mr. Rice, who had planned to build 17 homes on the 5.3-acre parcel along North Custer Road, just east of Monroe's Custer Airport.
Mrs. Anderson and Eagle are from Sanford, Mich., and travel throughout North America and around the world aiding law enforcement and other agencies in difficult cases.
Mrs. Anderson said Eagle averages about 170 searches a year, and she decided to donate his services at the behest of Dr. Jack LeBeau, a retired local dentist who has begun a second career in forensic dentistry.

Police Dog's Skill Proves Fatal
Succumbs to Heat After Performing Unique Trick
By Joe Beaird
Aug. 6, 1999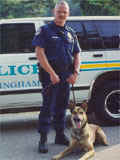 Caleb and Officer Derrick Hood

BIRMINGHAM, Ala. -- It was one trick a dog was never supposed to master -- and it killed him.
Caleb, a 2-year-old Belgian Malinois, surprised all the K-9 officers in the Birmingham Police Department when he learned how to nose open the backdoor latch of a police cruiser.
At first no one, not even Caleb's handler, Officer Derrick Hood, believed it was possible for a dog to open a car door.
"Derrick came home one day and found the dog in the back seat of the car," said Lt. Mody Duff, spokesman for the Birmingham police. "He was wondering how this could happen."
He set up a video camera to record the car door and saw that while he was away, the dog was getting in the back of the car, Duff said.
The handlers devised a plan to break Caleb -- a dog trained to search buildings and fields for fugitives -- of his precocious new habit. But apparently they failed to correct it.
"They felt the situation was in hand," Lt. Duff said. "But unfortunately ... they found that this was not the case."
96-degree day
On July 26, Caleb slipped into Hood's patrol car parked outside his home and waited for his master to return.
The day was scorching hot. The temperature in Birmingham hit 96 degrees, with only a trace of precipitation, according to the National Weather Service. Hood had gone fishing with friends.
Caleb waited, with no chance to put his door opening trick to work in reverse. "Once you're in the back seat of the police car, the doors cannot be opened from the inside," Duff said. "He was overcome by heat."
When Hood returned, Caleb was dead in the back seat of the car.
"He was extremely distraught," Duff said of Hood.
Hood and the supervisor of the K-9 unit, Sgt. Norman McDuffey, could not be reached today for comment.
Handler faced questioning
Already grieving, Hood faced departmental questions when he reported Caleb's death.
As the dog's handler, Hood was responsible for Caleb's fate.
"Initially when the handler gave his account of what he thought happened, nobody believed him," Duff said. "Fortunately for him, he had some video to support his story. Otherwise he probably would have been in some serious difficulty."